it has been a hectic 4 days since the start of men's fashion week here in paris. to recap: running from one show to the other in the freezing wild winds of paris (which i was naive enough to not know they'd be so far spread out over the city), a photoshoot till 2am, getting to go to my first backstage of a fashion show, and seeing the sartorialist and tommy ton in action. even though today was the first day of haute couture, me, my brain and my feet needed a little breather.
here are some photos from rick owens a/w 2011 show. i really admired the location: it was gigantic, somber, and smoky, mixing in an industrial concrete floor gave the perfect mood to kick start his show. keeping with his tradition there were the blacks, the asymmetric, and the layers but also a touch of metal here and leather there and of course his signature zipper boots. / ces 4 jours ont étés fous depuis le début de la fashion week homme ici à paris. en bref, courir d'un show à un autre dans le vent glacial de paris (que j'ai eu la naiveté de croire qu'il n'y en aurait pas jusque dans les rues), un photoshoot jusqu'à 2h du matin, premier backstage d'un fashion show, et d'avoir vu le sartorialist et tommy ton en action. même si aujourd'hui était le premier jour de haute couture, moi, mon cerveau et mes pieds avions besoin d'une petite pause.
voici quelques photos du show automne/hiver de rick owens. j'ai admiré le lieu : gigantesque, sombre, fumé, avec sol en ciment industriel donnant le ton du show. restant dans la tradition, il y avait des noirs, asymetriques, et des épaisseurs, mais aussi des touches de métal et de cuir et bien sûr ses fameuses boots zippées.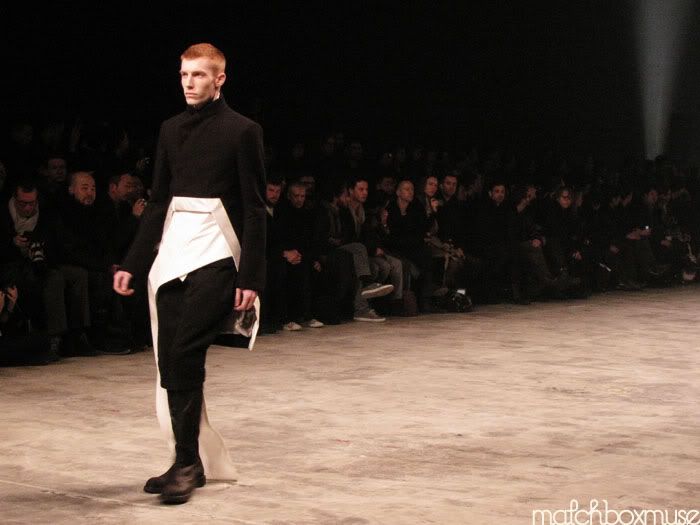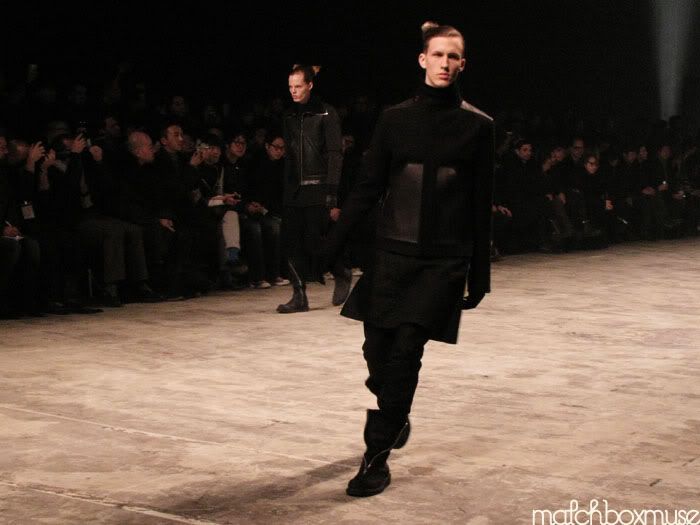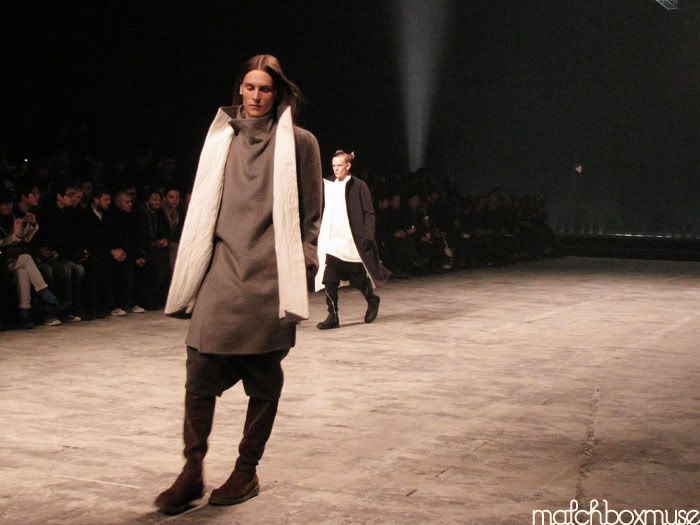 Rick Owens A/W Paris Men's Fashion Week 2011
Love, M