hello lovelies! i've been planning for this for a while now at i'm glad to finally be able to spill the beans... today is actually my birthday, and since i was never good at celebrating my own birthday, i decided to hold a giveaway for all of my followers/readers instead to spread around the good cheer :) this is my first ever blog giveaway, so i wanted to do something a little special - it's a bundle of 3 little parisian gifts (all bought by me, not sponsored) open to all my readers as a thank you for all the support since my blog's debut!
now before we go any further, here's a look at what's in this giveaway bundle:
item #1
a beautiful limited edition keychain from ladurée, featuring their famous macarons and a mini eiffel tower! a little touch of paris for the winner <3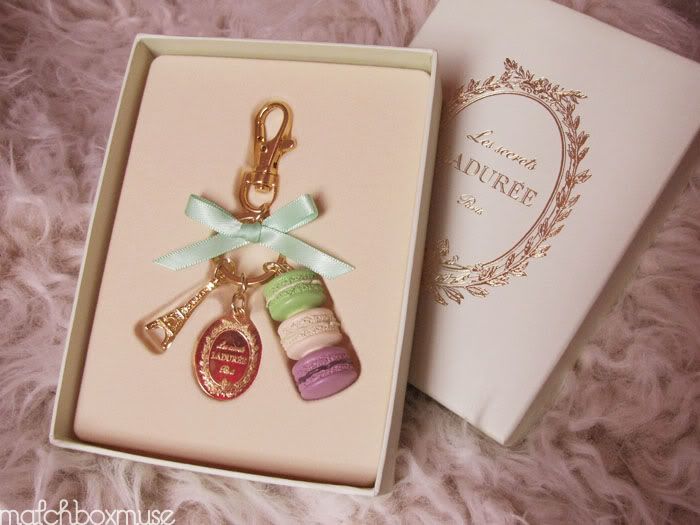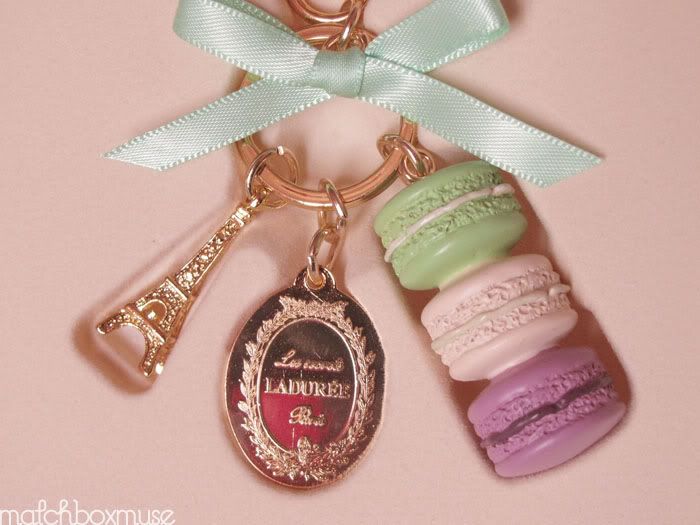 item #2
this adorable little heart-shaped pocket mirror from marc jacobs, perfect for those on the run touch-ups!
item #3
this unique opalesque chunky ring from h&m. i love the metallic effect, i couldn't resist getting another one for myself!

and all together now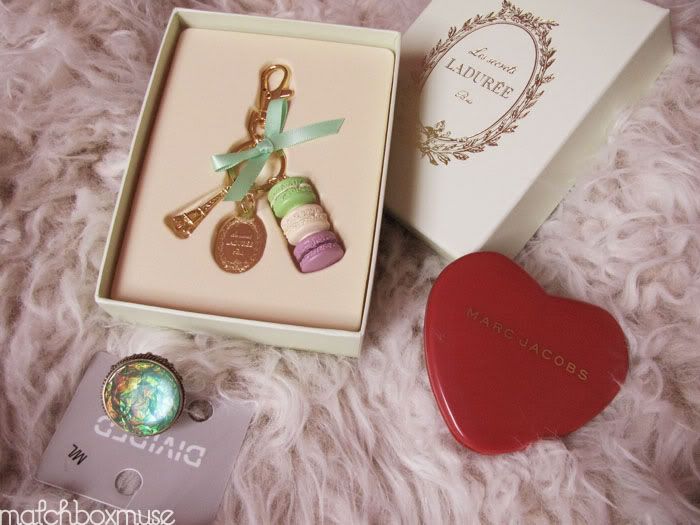 - open to all readers (international)
- giveaway begins may 3rd 2011 and ends officially at 11.59pm may 31st 2011
- ONE winner will win all 3 items in this giveaway
- winner will be selected through random.org
- winner will be notified on the 1st of june 2011
- winner has 3 days to respond to notification email, if not another winner will be selected
Mandatory Entry:
- must be a public reader on google friend connect (as this giveaway is to thank my readers, please make sure you're a reader before joining)
- leave a comment with your name and email address so i can contact you
Extra Entries (please leave a separate comment for EACH):
- be a follower on bloglovin'
- link my blog to your blog (i'll return the favor!)
- blog about this giveaway on your blog
thank you to all my readers for all your comments, visits and support! i appreciate every single one of you, you make my day :) good luck to everyone and have a lovely day!
Love, M